Against a Backdrop of Rolling Hills

Our Story
We craft Napa Cellars wines from our estate, sustainably farmed vineyards, as well as those of our esteemed partner growers, who share our meticulous dedication to the coveted terroir of Napa Valley.
Napa Valley is the first agricultural preserve in America. The valley is just 30 miles long and a few miles wide, yet its reach is immeasurable. Ideally suited to grow a variety of wine grapes—thanks to millennia-old volcanic and marine soils and a Mediterranean climate shared by just two percent of the globe—Napa Valley is synonymous with world-class wine.
Vista Montone Vineyard
Planted in 1999 and located in the southernmost portion of Napa Valley, our sustainably farmed Vista Monte Vineyard provides fruit for our Napa Cellars Chardonnay and Pinot Noir. Vista Montone, meaning view of the sheep, is primarily comprised of deep, well-drained Fagan Clay Loam soils and a diverse collection of the best Pinot Noir clones.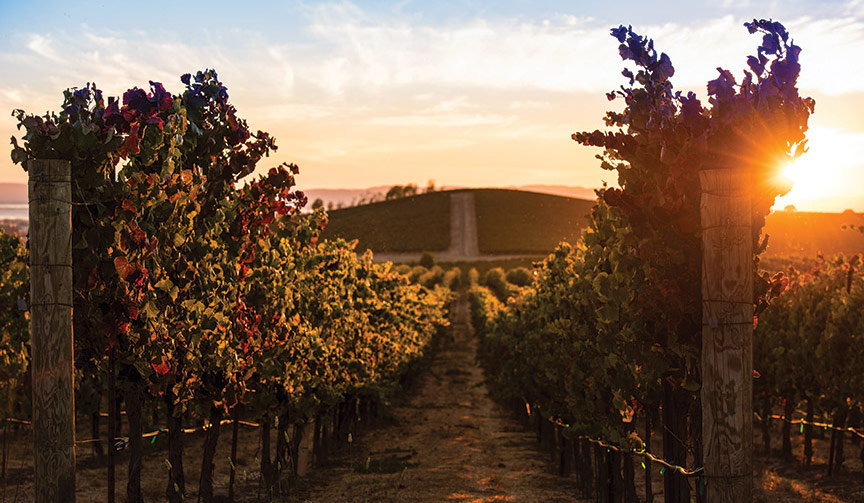 Main Street Vineyard
Established Cabernet Sauvignon vines planted in 1989 and 1997 provide St. Helena appellated fruit for our Napa Cellars Cabernet Sauvignon. This sustainably farmed and certified Fish Farming Friendly valley floor vineyard is predominantly Pleasanton series soils providing a fine, loamy, gravelly soil that is quite fertile.
Salvador Vineyard
Located in the Oak Knoll AVA, north of downtown Napa, our sustainably farmed Salvador Vineyard provides a diverse selection of Cabernet Sauvignon clones. Largely comprised of loamy soils which are typical of the Napa Valley floor, this vineyard gives these young vines what they need to provide excellent fruit for our Napa Valley Cabernet Sauvignon.